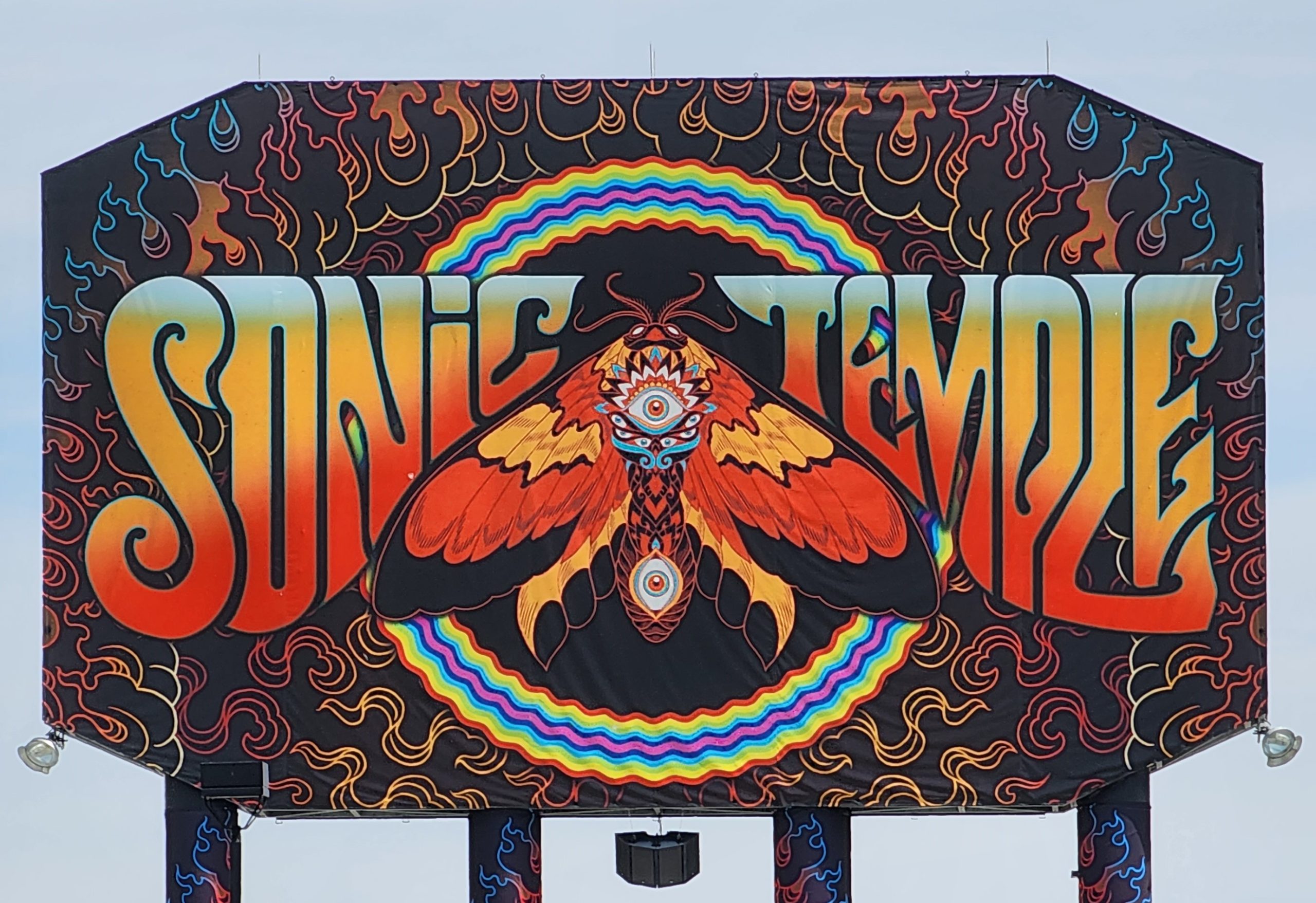 Hey it's Noah. Your Sunday morning host on 93.9 X Indy's Rock Station and I'm a Festival Newbie. As someone who has lived in the backwaters of the Midwest, I haven't had the opportunity to go and see various concerts or festivals in my lifetime. So when I got the chance to cover Sonic Temple Art & Music Festival this past Memorial Day Weekend, I jumped on it faster than an Indy Car! This would be my very first rock festival, let alone my first music festival in general.
This is it! Day 4! The final day of Sonic Temple and what a day it was! Filled with awesome music, a late start for those that stayed up WAY to late the night before, and some weird scheduling hiccups for the various groups performing. The last part being the big fault with Day 4 as so many groups got shoved right next to each other on the schedule that we couldn't see everybody, which really blows.
But with the late start, we got to get SOME extra sleep and we weren't as sleep deprived as the days before, so that's nice! With it being the last day, everybody just seemed extra tired but still had the party mentality! Some of the best groups of the day included: the punk legends Jawbreaker; San Antonio based Nothing More; the stoner rock sound of Sublime; and of course the Foo Fighters!
@Jawbreaker bringing them classic punk vibes to @SonicTempleFest #sonictemplefestival #sonictemple pic.twitter.com/eIL7tB43tz

— 939xindy (@939xindy) May 28, 2023
First on the docket today was the legendary punk band, Jawbreaker! If you're not familiar with Jawbreaker, they have been labeled as major influences on groups like Fall Out Boy and My Chemical Romance. So they must have really great music, right? Right! They may not sound the greatest in the world, but punk isn't supposed to sound pretty! They have reunited only recently after their 1996 break-up so to see these guys together and playing again is quite special. The only drawback is where they were placed in terms of the various stages at the festival. Jawbreaker was placed on the Temple Stage (main stage) and didn't have the biggest draw, yet Filter was on the Soundwave Stage (meant for smaller groups) and filled the area with thousands of people! Obviously not the fault of either group, but should be something the festival planners need to reconsider if both groups return next year.
Getting hyped up for @nothingmorerock on the Temple Stage! #sonictemplefestival #sonictemple pic.twitter.com/3F2maavu7c

— 939xindy (@939xindy) May 28, 2023
Now for Nothing More who also worked the Temple Stage on Day 4. I wasn't very familiar with Nothing More and I didn't get a lot of video due to my phone almost dying and wanting to conserve battery. But these guys won me over very early on. Before their set even! It takes some real Cojones to play the originally version of Mr. Sandman as their hype music for the crowd. I very much enjoyed it! Their music was great as well!
@SublimeWithRome take over the Octane Stage here @SonicTempleFest! Don't worry if you missed them here, they will be @TCUAmpatWRSP on July 30th w/ @SlightlyStoopid! pic.twitter.com/HFms502z7t

— 939xindy (@939xindy) May 29, 2023
I caught a little bit of Sublime's set as they were right before Foo Fighters and I wanted to get as close as I could in the pit. But the stoner legends brought the big guns for this set! Everybody was singing along and bringing the energy (and the grass) for this one! At one point in the show, I couldn't tell if they were using smoke machines on stage or all the smoke from a certain substance just caked the front of the stage. Once I moved to the inside of the arena, people were still signing along to hits like What I Got and Santeria all the way into the arena! They absolutely crushed it on Octane!
Night 4 and all of @SonicTempleFest has come to an end! @foofighters brought a fitting end to what was an awesome, kickass weekend! Here's just a taste of what music can do to the soul! #sonictemple #sonictemplefestival pic.twitter.com/QE7Bm5JZtB

— 939xindy (@939xindy) May 29, 2023
And now for my favorite set out of the entire weekend of Sonic Temple. The Foo Fighters. This one will always hold a special place in my heart for how I was able to get to that moment. Foo Fighters have been a major bucket list band for me for a very long time. Money and time just never seemed to lineup for me to see these guys to play, and with what happened last year, I didn't think I would be able to see them live anymore. When news broke that they would be touring again, my hopes went up a little bit and when they were announced for Sonic Temple my hopes shot up a little bit more. So you could almost imagine how insanely happy I was when I got the call to cover Sonic Temple. Pure elation. This was a tough show emotionally for everyone in Crew Stadium, especially for the band. You could here the sadness in Grohl's voice when playing so many of their hits, especially My Hero and Everlong. When it was all over, I couldn't help but break down and cry. I was happy to finally see them play live, but obviously, not the band lineup I expected. Josh Freese will most definitely carry on the legacy of Taylor Hawkins behind the kit and without him, I would never be able to experience this amazing group live. Thank you Mr. Freese and thank you Taylor for leading the way.
Now you're probably asking, what about this band or why didn't you talk about this band? Don't worry my friend, I will be posting a video blog in the coming week that will go into even further depth of all the shenanigans we got into!
Day 4 was the emotional rollercoaster ride I expected it to be. So many highs, so few lows. I guess you could say that about the entirety of Sonic Temple. It really felt weird on the day after the festival ended. We didn't have to go back to the stadium again. I remember telling my friend, "It's weird not having to go back." This festival has helped me not only see groups I've always wanted to see, but get to hear the future (and past) of this amazing genre of music! If I'm able to do this again, I can't wait to go on that crazy ride again!